NEW DELHI: GST collections rose 10.8% to Rs 1,59,069 crore in August, as the mop-up suffered due to rain related disruptions in some states such as
Himachal Pradesh
.
Himachal Pradesh – where severe rains have resulted in disruption of road and rail movement – saw a meagre 2% increase in GST collections, the lowest among all states and Union territories. Uttarakhand, the other hilly state affected by the monsoon, however, reported a 24% jump, according to latest numbers released by the
finance ministry
based on transactions in July. Tripura recorded the highest growth of 40%, followed by Arunachal Pradesh at 39%.
Once again, domestic demand is seen to have powered the growth, although integrated GST on imports saw an increase of 3% – the first time it has gone up in three months. GST collections from domestic sources went up by 14%, the finance ministry said in a statement.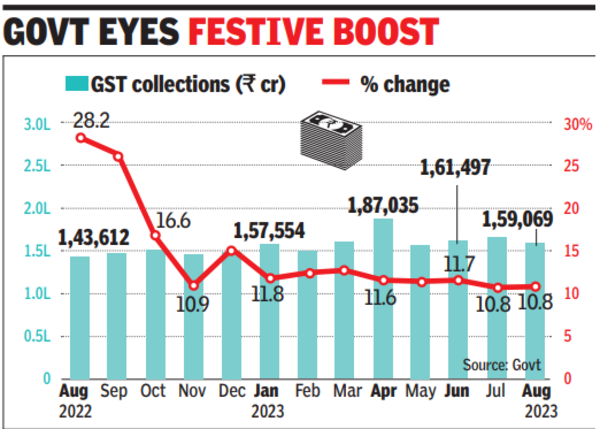 "The headline number is marginally lower than our forecast, dampened by imports. However, the overall collections so far this year remain robust," said Aditi Nayar, chief economist at ratings agency ICRA.
Revenue secretary Sanjay Malhotra said GST collections have grown more than the nominal GDP growth rate in the April-June quarter, despite no increase in tax rates. "This is because of better compliance and improved tax collection efficiency," he said, adding that tax evasion and avoidance, too, have been low.
The kitty during August remains within the government's target of around Rs 1.6 lakh crore a month, with the Centre expecting a pick-up during the festival season.
"These GST collections, coming in the backdrop of the good GDP growth in the first quarter, herald the onset of the festive season where consumption increases occur… All the key manufacturing and consuming states have shown an increase ranging from 10% to 23%, indicating that overall increase in domestic consumption is fairly widespread across states," said M S Mani, partner at consulting firm Deloitte India.
The government is banking on higher than budgeted collections to achieve its fiscal deficit target of 5.9% of GDP, factoring in higher pre-poll spending and a shortfall in disinvestment receipts.