Psychometric tests are used in the hiring process to assess a candidate's cognitive potential or organizational fit. Maybe you haven't encountered a psychometric test before, or maybe you haven't yet managed to get a good enough score to progress. Either way, our tips for taking these tests should help you increase your score. Psychometric tests take different forms depending on the role and provider. Common types of tests include numerical reasoning, mechanical ability, logical reasoning, and verbal reasoning. They are almost always taken online. One of the main differences between aptitude tests and academic exams is that your knowledge is not tested; rather, how you think and react. While you can't revise as such because there's nothing to study, there are many areas you can focus on to improve your chances of getting a high score when it counts. But before that, the question comes…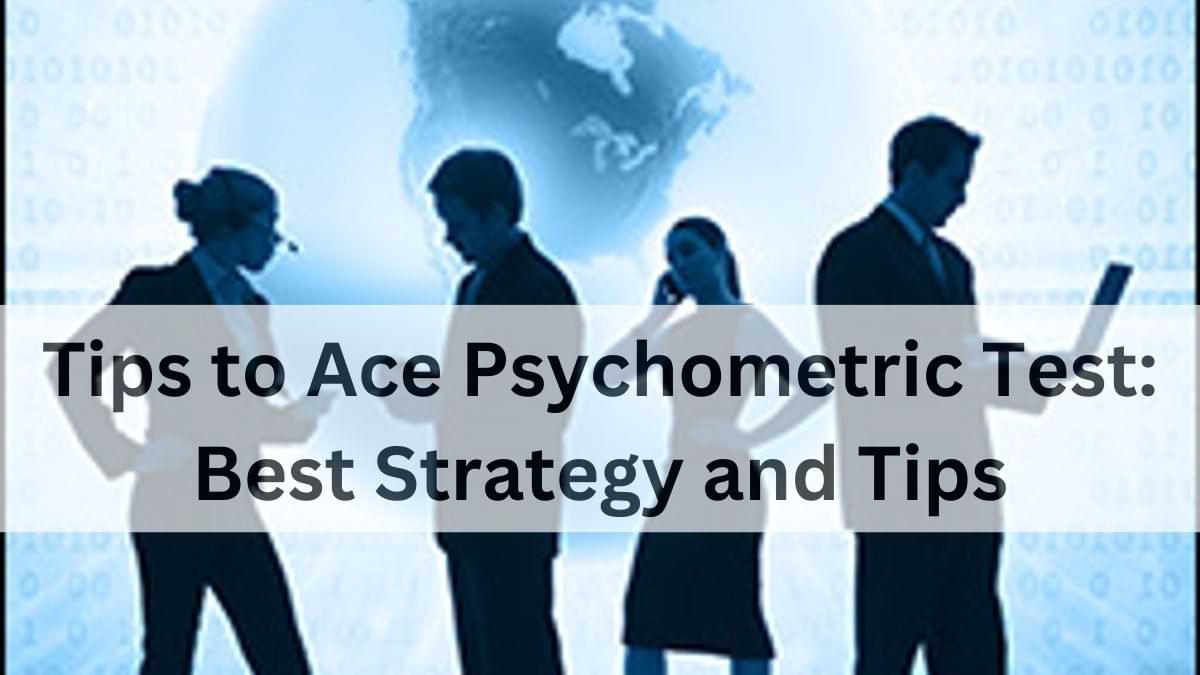 What is a psychometric test?
Psychometric assessments are tests based on scientific methods that measure people's attitudes, mental abilities, and competencies. By using psychometric tests, recruiters seek to gain a deeper understanding of a candidate's personality, skills, work style, and what motivates him/her.
Psychometric assessment tools include personality profiles, reasoning tests, and motivational assessments. They usually fall into one of two categories: aptitude tests and personality tests. Today's organizations use these tests using a cloud-based, online format. Most industry leaders such as Deloitte, KPMG, Ford Motor, Citigroup, Procter & Gamble, etc. use psychometric testing assessment tools to recruit candidates.
Tips to pass psychometric test in first attempt
Here are some tips to help you pass your psychometric test the first time:
Practice with sample questions: Many test providers offer sample questions on their websites. These sample questions can give you an idea of ​​the types of questions you will face on exam day.

Be honest: Don't try to guess what the test taker wants to hear, answer the questions as honestly as possible.

Time Management: Manage your time effectively during the test, don't spend too much time on one question.

Keep calm: Psychometric tests can be stressful, but it's important to stay calm and not let your nerves affect your performance.

Be prepared: Make sure you're well-rested and well-fed before the test so you can perform at your best.

Read the instructions carefully: Before you start the test, read the instructions carefully and make sure you understand them.

Understand the purpose: Understand what the test is for, be it cognitive ability, personality traits, or career aptitude.

Take the test as it is: try not to compare your test results with the results of others, psychometric tests are designed to be unique to each person.
Remember the tests are designed to measure your abilities and aptitudes and not your knowledge, so relax, be honest and do your best.
What not to do before the psychometric test?
As mentioned above it's just a test so don't get overwhelmed even if you don't clear it in the first attempt. In this section, we have listed some basic points that you as a test taker should not neglect.
Don't procrastinate: Don't leave your exam preparation to the last minute. Instead, start preparing well in advance so you have plenty of time to familiarize yourself with the test format and practice sample questions.

Don't over-prepare: While exam preparation is important, over-preparing can lead to burnout and stress. Find a balance between preparation and self-care.

Don't skip breakfast: A healthy breakfast can help improve your focus and concentration during the test. Skipping breakfast can make you feel hungry and tired, which can negatively affect your test performance.

Don't second-guess: As mentioned earlier, psychometric tests are designed to assess your natural abilities, so trying to rethink or second-guess answers can be counterproductive.

Don't cheat: Cheating on a psychometric test is not only unethical but can also lead to disqualification. Believe in your abilities and prepare as much as you can.

Don't forget to bring your ID: Make sure you have a valid ID with you as this is a mandatory requirement to take the test.

Be sure to read the pre-test guidelines: Before starting the test, read the pre-test guidelines and instructions carefully to avoid confusion or mistakes.
By avoiding these things before a psychometric test, you can ensure that you are well-prepared, focused, and ready to perform at your best on test day.
Psychometric tests are a common tool used by employers to assess a candidate's cognitive abilities, personality traits, and behavioral characteristics. To pass your psychometric test in the first attempt, it's important to understand the test format, practice with sample questions, and manage stress. By following these tips, you can increase your chances of success on the test, and showcase your abilities to potential employers. With the right preparation, you can ace your psychometric test and take a step closer to achieving your career goals.
This blog is a collaborative effort between iDreamCareer and Jagran Josh. iDreamCareer has an exclusive app where you can explore around 569 careers for FREE and you can also get updated with the 1717+ scholarships and 1315+ entrance exams based on your preferences and interests.