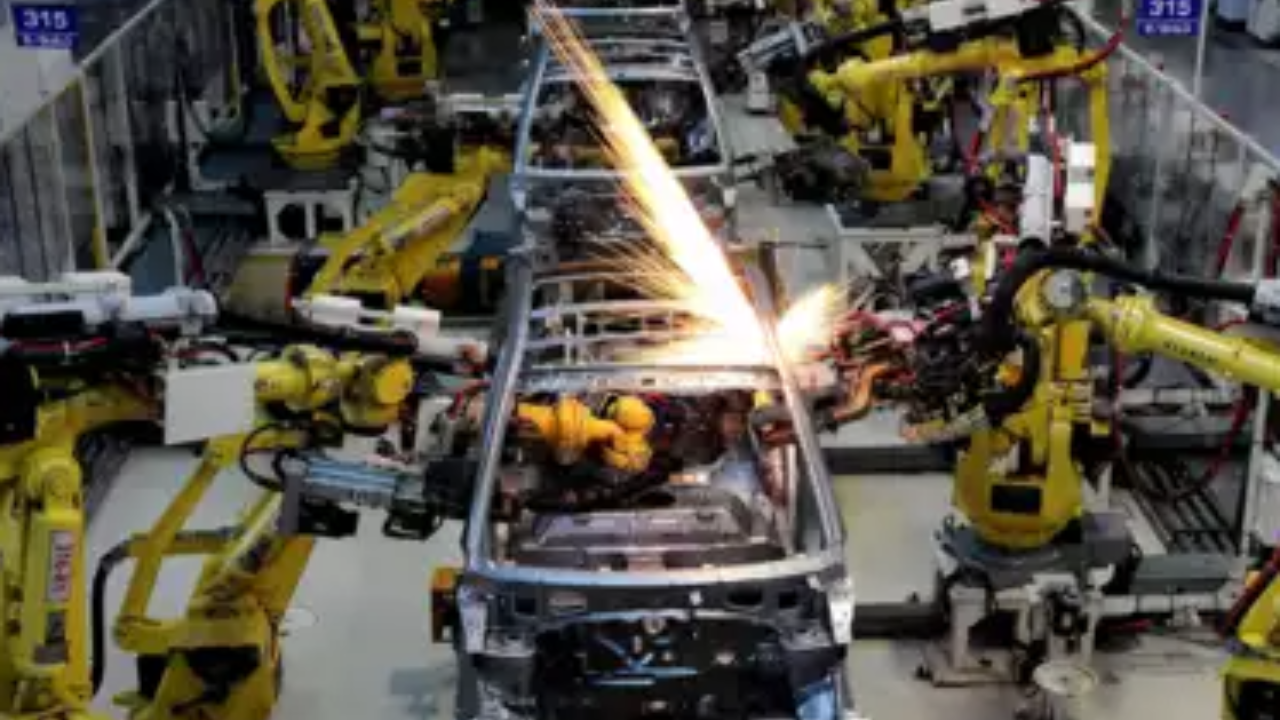 NEW DELHI: India's economy grew at its fastest pace in a year in the June quarter, supported by strong services activity and robust demand, data released by the government showed on Thursday.
Gross domestic product (GDP) grew by 7.8%
in the April to June quarter, accelerating from the 6.1% growth recorded in the March quarter.
Chief Economic Advisor (CEA) V
Anantha Nageswaran
on
GDP
numbers (
Watch video
)
Drivers of growth
3 Excerpts
* Strong services sector growth: The industrial growth rate (PMI manufacturing) is on a continued expansion zone, which signals neither expanding nor cooling manufacturing sector. The core industry growth rates are also positive.
* Urban demand remains resilient: Passenger vehicle sales grew very strongly in Q1 FY24, compared to last year. Credit & debit card spending also witnessed rapid growth.
* Recovery in rural remand: Anecdotal information from high value FMCG companies shows that growth is not just concentrated in metros but even small towns & villages. There is a pickup in rural demand for FMCG items.
2 Video Moments
* Services sector has been the main driver of growth while industry has remained more or less unchanged
(
Watch video
)
* Government's capital expenditure push is now paying off. It has been championing the capex creation bandwagon over the last 6 years.
(
Watch video
)
1 Insight
India emerges as the fastest economy. India's real GDP growth towers above various GDP estimates of other countries
(
Watch video
)
India's growth outlook (
Watch video
)
3 Excerpts
* There is no real cause for concern that inflation would spike out of control as both the government and the Reserve Bank are taking adequate steps to maintain supply and keep prices under check.
* The external sector remains stable despite concerns. The current account deficit has further narrowed in Q4 FY 2023. It is quite stable and well within our tolerance limit.
* A slowdown in the global economy and trade may moderate export growth but it may be better for India overall. Prolonged geopolitical unvertainty and tighter financial conditions also pose a risk.
2 Video Moments
* Inflation trajectory, while it is being extremely well managed, will continue to require attention on the part of fiscal and monetary authorities.
(
Watch video
)
* GST system is now benefiting both central and state governments. It's a sign of maturation.
(
Watch video
)
1 Insight
The nominal GDP growth was 8% and real GDP was 7.8% signal that there is momentum in economic activity in general and is not related to price-related distortions. The economy is expected to grow at 6.5% in the current fiscal notwithstanding deficient rains in August.
(
Watch video
)
Challenges to govt investment are emerging (Read Quick Edit)
3 Key Points
* Investment, or gross fixed capital formation, increased by 8% in the April-June quarter to Rs 14 lakh crore. The central government has been the main driving force behind investment.
* The rapid rate of investment could soon encounter a limitation due to abnormally low tax collections. The gross tax revenue of the central government for the current quarter has merely risen by 3.3% to reach Rs 6.7 lakh crore. This growth pace is notably below the nominal GDP growth of 8%.
* Hence, unless the central government discovers methods to accelerate the rate of tax revenue expansion, the deceleration of its capital expenditure may emerge as a constraint to growth.