MUMBAI: The diversification strategy undertaken by the Mariwala family-owned Marico to reduce its dependence on Parachute coconut oil and Saffola edible oil – its two traditionally strong, commodity-linked brands – has yielded results.
The revenue contribution of coconut oil in the domestic business has come down by approximately 700 basis points(7%) over the last 5 years, while the domestic revenue share of new categories of foods and premium personal care (including digital first brands) has grown to approximately 15% of domestic revenue in FY23. This contribution is likely to move up to approximately 20% in FY24.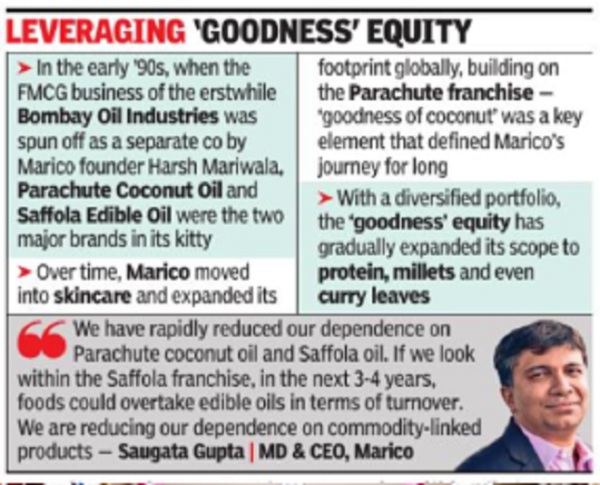 Although the contribution of Saffola oil has increased by approximately 500 bps mainly due to the sharp spike in prices in the last couple of years, the company believes this will normalise to a large extent in FY24 following the recent correction in the edible oil prices.
In an exclusive interview to TOI, the Rs 9,764-crore Marico's MD & CEO, Saugata Gupta, said: "We have rapidly reduced our dependence on Parachute coconut oil and Saffola oil. If we look within the Saffola franchise, in the next 3-4 years, foods could overtake edible oils in terms of turnover. We are reducing our dependence on commodity-linked products. The metric which we measure is the quantum of business coming from premium personal care, foods and digital brands. This has moved from 5% in 2020 to 15% right now and is expected to be at approximately 20% by next year."
Parachute coconut oil and Saffola oil contribute to around 55% of domestic revenues in FY23. An FMCG company's play in the value-added brand space is usually more valued than one that operates in a commodity-linked brand play.
Over the last decade, Marico has consciously diversified its business through a mix of inorganic and organic growth strategies. In keeping with the changing times, it also acquired a few D2C brands to enter male grooming, while expanding the Saffola franchise into packaged foods.
"We have been able to rapidly diversify to create future growth engines. By the end of this year, at least two of our digital brands will be profitable – Beardo and Just Herbs. We see the brand, Beardo, as the 'Harley Davidson' of male grooming. While the habit of sporting a beard continues to be a trend, we have been able to diversify the portfolio beyond just beard-related products," said Gupta.
In D2C, Marico had the realization that what it can't do on its own should be outsourced to the founders of the brands it acquired.
"Although we have significant digital capabilities and 20% of our spends are on digital platforms, our core business is wired in a certain way. But, we realized that if we do not participate in the digital business, it would be a missed growth opportunity. Since we did not have the organic capability in the core in 2017-18, we decided to allow the founders to operate independently while we learnt about digital brand business models in a methodical manner," said Gupta.
The D2C brands Marico has acquired over the last few years continue to operate in their respective locations, while Marico explores cost synergies in the back-end such as a common tech stack and performance marketing, amongst others.